November 28, 2015:
Well, here it is, the full jacket of The Whispering Mime, due for release mid-December. The first proof arrived on my doorstep this week and it looks wonderful. The Kindle version will be ready for Christmas. For those of you new to the site, this is the third book of The Renaissance Series, a loosely connected trilogy set in the Renaissance age. Each novel is a separate story, yet each references the others in many ways, and the characters in Tales of Yorr cross over to The Whispering Mime.
History is decided with a whisper
Shakspere, Shake-shafte, or Shakespeare
Were these three men one in the same, or a figment of the imaginations of Elizabethan England?
Follow William, born a Catholic, raised a Protestant, exiled to become a priest, as per his father's wishes. Adventurer, poet, spy, assassin and lover, with an imagination that defied the conventions of his time, and a name easily confused, mis-signed, and misquoted.
Ink never sleeps; it dries and haunts us forever.
August, 2015:
Birth of Venus, book two of The Renaissance Series is on the shelves at Amazon - and, I discovered, at Barnes & Noble. It is also available for Kindle. Click on the cover at the top of the page for retail options. Below is the full cover:
A flower does not choose its colour; its beauty is the desire of others...
An ancient picture frame and a forgotten parchment lead two generations of one family into the world of Renaissance Florence.
Both artefacts pose the same questions; were Sandro Botticelli and Simonetta Vespucci lovers?
Do the women in his paintings, including The Birth of Venus, really depict the young Florentine beauty?
Can any man love one woman so intently and for so long?
October 23, 2015:
So I bumped into an interesting author from the U.S. online recently, and she has some wonderful art in cyberspace. You will find the author interview she did with me at the following address:
http://worsethanwas.blogspot.com.au/2015/10/author-interviews-d-j-meyers.html
You can find her website here:
http://www.charleydaveler.com/
Following in her footsteps, there will be a new addition to this site, the author interview page, which you will discover on the Fellow Authors link. The adventurous Charlie will be the first, sometime between now and Christmas.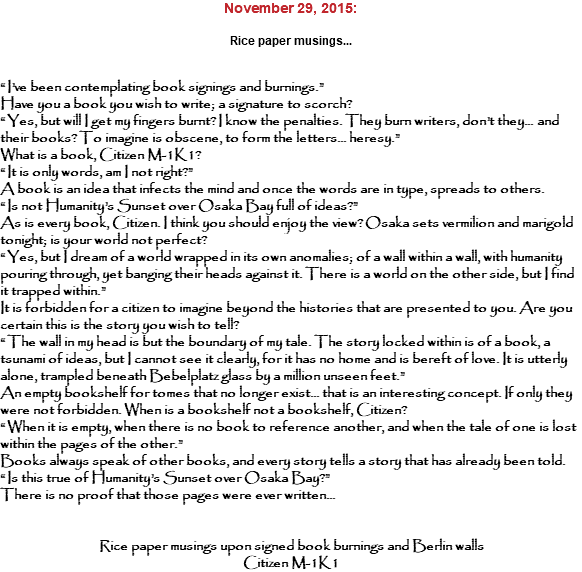 July 2015
Tales of Yorr (2nd Edition) is now available. Re-formatted to match the smaller size of the second book in the Renaissance Series, Birth of Venus. The second book in the series will be released in the coming weeks. Birth of Venus explores the life of Sandro Botticelli and his supposed love, Simonetta Vespucci.
A Mediaeval Monk in Need of a Chiropractor
What if Richard III was not a hunchback…
What if one of his bastard sons was…
This is the tale of Yorrick, bastard son of Richard III, hunchback extraordinaire. Scholar, poet, lover, husband, adventurer and warrior. A dab hand at Latin, he has quite a way with words, usually in verse across a tawdry bar.
Not everyone agrees who wrote William's work, perhaps he was inspired by a character such as this. Alas, for poor Yorrick, we may never really know...
December 18, 2015:
I'm back from my tour of Japan, all documented on Twitter - click here. More importantly, The Whispering Mime was released today, so now you can buy the set - The Renaissance Series, books 1, 2, & 3. Click on the links and find yourself a paperback, in cream paper with glossy covers, or buy yourself an eBook. Below is the full set. Tales of Yorr, Birth of Venus & The Whispering Mime.
July 13, 2016:
Well, it has been a while, but the writers from The Gargoyle Chronicles have been busy writing and editing. Since the release of The Renaissance Series last year, the focus has been on editing a new work from Oznonymous - Sentenced to Obscurity. You can see the provisional full cover below. This novel is quite a departure from the historical fiction released last year. It is a work that spans three time periods, a futuristic dystopian sci-fi realm, a contemporary love story, and a historic fiction middle. The work involves a contemporary writer who has just completed work on a science fiction piece, which becomes part of the tale. That story, in turn, begins to relate his life, which plummets into the depths of despair; It is difficult to tell which book wrote which, but the unravelling of the mystery is a brain teaser for all who enjoy a good read. In keeping with the dual novel theme, the cover has two covers.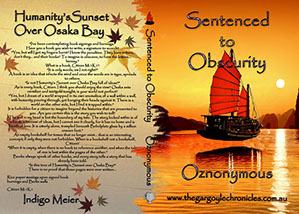 August 26, 2016:
The day has finally arrived to unleash the writer Oznonymous on the world. These Sci-Fi and black comedy musings will begin with a Dystopian Science Fiction novel titled Sentenced to Obscurity (scroll down to view the cover.) What begins as a contemporary love story, turns from mystery to futuristic nightmare in an intriguing web that spans three generations. Released on paperback and in eBook format today, this eclectic piece will surprise readers from pre-prologue to the final page. Do not miss your chance to be one of the first to read this epic tale.
Click here to be transported via hover junk and view humanity's sunset over Osaka Bay.
November 28, 2017:
Welcome to the newest author on The Gargoyle Chronicles - Sebnem E. Sanders. A native of Istanbul, Turkey, she is about to release her first collection of short stories. Available in paperback and eBook editions, pop over to Amazon and purchase a copy - click here
December 1, 2017:
D J Meyers and Oznonymous have combined their talents over the past year and created a selection of short stories.
Now available on Amazon - click here - Paper Cranes & Other Oral Origami contains 8 works. From shorts to novella, the tales explore social issues from disarmament, marriage equality, the environment, psychosis, loneliness, the explosion of political correctness, and gun control.