The Mystery of the Bridge
You want tales of an improbable romance and young men whose skin glitters in the sun? We don't sell those types of books in here... Balthazar is a curiosity, a man who lives in Whitby and gives readings of classic novels to anyone who wishes to listen in the bowels of an antique bookstore. The readings often drift from the original text to parallel stories that suggest he has a firm grasp of history, as if he has actually lived through the creation of these classic novels, yet he has no memory of this… in fact, Balthazar has no memory at all. One chill April night Claire and Prudence step across the threshold of Balthazar's bookstore. Intrigued by the deep pools of loss that are his eyes they follow him to his daytime existence and their lives are never quite the same.
(The Comparative Difficulties of a Newly Formed Ectoplasm in a Modern World)
This is not your usual ghost story. The chief protagonist exists in a modern world with modern challenges. How does a ghost use an iPhone? 14-year-old Bridget is having problems with her parents, Rex and Iris; they no longer get along. Her mum is ambitious and her dad has gone to sleep. Iris has a plan to make their lives more exciting; a Japanese inspired Lysergic Acid Diethylamide Saké party that should lead to a promotion. No one mentioned the swinger aspect. No one considered the consequences.
This was the first time I strayed from the formula of having a historic item floating somewhere within a novel. This is the first novel I have written that is strictly science fiction.
Transmorf Inc. is set in the near future. around the creation of a device that transports humans through space, but not time. The invention revolutionizes transport, travel, and holidays, while cleansing the world of fossil fuels. However, the effects on the travellers are frightening, and kept well hidden.
Errol is a shy university student who studies diligently. It is 1986 and he is three years into a four year teaching degree at a Melbourne University. He is the first person in his working-class family to make it to university, yet he dreams of other possibilities. All this changes during a late night university party when Errol stumbles across Holly, a vivacious blonde adorned in more than appropriate hippy clothing. Holly seems a little young for a drunken university outing… in fact she is only four years old and the spitting image in miniature of her 21-year-old mother Kate. She is the life of any party, yet beyond her drunken antics she conceals a different side. A studious history major who dreams of working on an archaeological dig in Egypt and travelling to Morocco.
Dylan is a computer technician. He lives a banal life in Edinburgh, fulfilling his father's dream. Dylan is haunted by more exciting dreams he dare not pursue until the night he finds himself alone in his shop behind a locked door. He is haunted by lilting rhythms of a song playing in the distance, a song he has never heard, but a song that has been looped and forgotten on one of his Internet Café's computers. The song wafts by him as he lays there stricken—the pain in his chest unbearable, yet he is only in his thirties and his life is flashing before him…

Sentenced to Obscurity
(A tortured tale of forbidden love that resonates into a dystopian nightmare)
Ebook & Paperback now released on Amazon
There once was an idea of a book from the past that wrote the future, which in turn spawned a book in the future that wrote the past. Author Indigo Meier did not take risks, he did not make mistakes, but he did have a furtive imagination that spawned the futuristic tale, 'Humanity's Sunset over Osaka Bay'. His first mistake was to fall for an actress on hard times; the beautiful Charlotte Watson. The next mistake was to show her his novel, the first person ever to read it. All subsequent mistakes were written into a history that would destroy them both.
Humanity would never be the same. The future isn't written, it is designed. The past was not written, it was designed...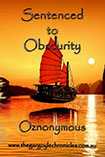 Paper Cranes
(& Other Oral Origami)
Ebook & Paperback now released on Amazon
A collection of short stories featuring the writing of D J Meyers and Oznonymous. Paper Cranes comprises eight stories, which touch on gun control, green energy, psychosis, loneliness, political correctness & a lonely gargoyle perched up high on Notre Dame cathedral in Paris.
Oznonymous contributes the gun control thriller Lost in Authonomy, as well as the psychological thriller The Creature from beyond the Coffee Cup, the politically incorrect Politically InCorrect Fishbowl, and the loneliness mystery Skeleton Coast - Postcards from the Dead.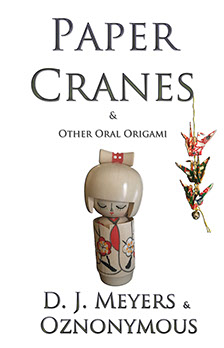 O2-32784.93 is a planet inhabited by a destructive silicon-based life form, until Ewan and his crew obliterate every trace in preparation for an Earth-like utopia. Their assignment, including terra-forming, takes seven days, as prescribed by the gods. They lose a single crew member, yet all memory of this loss is obliterated before they tackle their next planet, in a distant solar system. One with nine planets that orbit a yellow sun. The alien virus that has devastated this system and its home planet proves to be formidable, with technology undocumented in a planet scourging life form. Ewan and his crew attempt to establish a base, as usual, only to have their ship torn apart before landing. Ewan finds himself in an odd world, encased by a metal exo-skeleton, devoid of the oceans and land masses the archives suggest were once here, only to find himself looking into a mirror of his own past.
Ozwaldous Jones is a writer who fears reviews from the dead - especially his mother, the grammar NAZI. So much so, he hides all his works in a drawer in an old mansion once owned by his dead parents, who he may or may not have killed. One day he upsets that drawer and the discarded characters come to life in his house - Wattle Manor.
Knife in his chest, wedged in by an antique writing desk, Ozwaldous battles reality and death, while he sorts through his characters' thoughts - some useful, others malicious. Will he survive? Can he escape his past and the house where he has been held captive for fourteen years?
Book One in the Spottiswoode Mysteries